Cross-cutting Priority: Inclusiveness and Gender
IDI pictures a world where Supreme Audit Institutions (SAIs) are gender-responsive, leave no one behind and benefit everyone.
The 2030 Agenda for Sustainable Development and its pledge to "leave no one behind" is IDI's guiding framework to take action with Supreme Audit Institutions. In working on inclusiveness as an organisation and in IDI's work with SAIs, IDI takes into account different factors that can leave people and their institutions behind. These can include discrimination, geography, socio-economic status and Governance.
Through IDI's Strategic Plan 2019-2023, IDI is committed to placing a particular focus on integrating a gender perspective throughout IDI as an organisation and across its portfolio. IDI's Gender Strategy spells out our ambition to continuously step up IDI's engagement on gender and our enhanced commitment to support gender-responsive SAIs.
SAIs are key oversight bodies that can play an important role in enhancing gender equality through their audit work. For instance, they can strengthen state-society relations, democracy and service delivery through their audits and reports on the implementation of national gender laws, regulations, policies and international conventions. Goal 5 of the United Nations Sustainable Development Goals (SDGs) strives to achieve gender equality and empower all women and girls. SDG 5 and all other SDGs serve as important basis for SAI engagement and thus for IDI.
Following IDI's Gender Strategy, integrating a gender perspective cuts across the 2019-2023 Strategic Plan and means:
Supporting SAIs to be gender-responsive organisations and to conduct audits that contribute to gender equality.
IDI leading by example as a gender-responsive organisation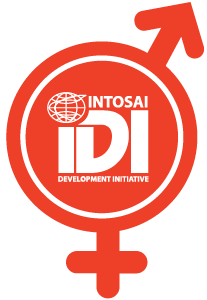 Can SAIs Afford to Ignore Gender Equality?
At INCOSAI XXIII in September 2019, IDI led a panel discussion on the subject of SAIs and gender equality. Panelists discussed the benefits and challenges of integrating a gender-based approach to the work of SAIs. The discussion can be watched below: