We are pleased to announce that the Norwegian Agency for Development Cooperation has approved a grant of NOK 9.5 M to fund a three and half years Peer Support Project for the Court of Accounts of the Democratic Republic of the Congo (DRC) effective January 2022.
The objective of the CDC-DRC Peer Support Project 2022-2025 is to enable the Cour des Comptes (CDC)of the DRC to successfully implement key strategic priorities related to strategic management, internal governance, ethics, compliance audit, jurisdictional control, digitalization, communication, and stakeholder engagement for the period 2022-2025.
IDI will administer the grant and be the lead implementation partner working with peers from the Supreme Audit Institutions (SAIs) of Hungary, Senegal, Sweden and Tunisia.
The support will contribute towards the implementation of the CDC-DRC's strategic plan 2021-2025 in the following three key areas through coaching and mentoring both on-site and online:
In line with the CDC's aim of leading by example in Congolese society, a key component of the project support will be in the area of

strategic management, internal governance, and ethics

.

Project support will also be provided to strengthen the delivery of relevant compliance audits and jurisdictional controls

in line with INTOSAI standards.

CDC staff will also be supported in

communication and stakeholder engagement to enable the CDC to reach out and collaborate with relevant players in the accountability value chain including the National Assembly, civil society organisations and others to create visibility and greater impact for the work of the CDC

.
The project will be led by the CDC with its First President chairing the Steering Committee and his designated official will lead the Project Coordination Team (PCT) handling daily project activities.
Mr. Ernest IZEMENGIA NSAA-NSAA, the first President of the CDC, said, "The Court of Auditors of the Democratic Republic of Congo is delighted to be the direct beneficiary of an institutional capacity building project, which is based on the priorities set out in its 2021-2025 strategic plan. I take this opportunity to express my gratitude to IDI and CREFIAF for their usual technical support, as well as to Norad and the Norwegian Embassy in Kinshasa for the financing of this project". He concluded, "I cannot end my remarks without launching an appeal to other donors to take an interest in the Strategic Plan of the Court of Auditors and commit themselves, each within the limits of its means, to the implementation of the strategic plan".
Per Fredrik Ilsaas Pharo, Director of Department for​​​​​​​ Partnerships and Shared prosperity in Norad, commented: "Supreme audit institutions are cornerstones of good governance and responsible financial management is critical to finance development. Norad welcomes the Supreme Audit Institution of DRC's commitment to enhance their role in auditing public finance. We are hopeful that our financial support to this project will facilitate learning from other supreme audit institutions and continue to benefit from peer support from the IDI and other project partners."
Mr. Einar Gørrissen, IDI Director General added, "We in IDI are grateful to Norad for the grant because it gives us an opportunity to continue supporting the SAI of the DRC by building on the progress the SAI made during PAP-APP Phase I from 2018 to 2021 and upholding our pledge to leave no SAI behind. The support will be a useful boost to the efforts of the SAI in addressing the enormous challenges Congolese society faces as recently shown by the report on the use of IMF Covid-19 funds."
Ends
Nous avons le plaisir d'annoncer que l'Agence Norvégienne de Coopération au développement a approuvé une subvention de 9,5 millions de Couronnes Norvégiennes pour financer un projet de soutien par les pairs de trois ans et demi au profit de la Cour des Comptes de la République Démocratique du Congo (RDC), et ce à compter de janvier 2022.
L'objectif du Projet d'Appui par les Pairs CDC-RDC 2022-2025 est de permettre à la Cour des Comptes (CDC) de la RDC de mettre en œuvre avec succès les priorités stratégiques clés liées au management stratégique, à la gouvernance interne, à l'éthique, à l'audit de conformité, au contrôle juridictionnel, à la digitalisation ainsi qu'à la communication et à l'engagement des parties prenantes pour la période 2022-2025.
L'IDI administrera la subvention et sera le principal partenaire de mise en œuvre en collaboration avec des pairs des Institutions supérieures de contrôle (ISC) de la Hongrie, du Sénégal, de La Suède et de la Tunisie.
Le soutien contribuera à la mise en œuvre du plan stratégique de la CDC de la RDC pour la période 2021-2025 dans les trois domaines clés suivants grâce à un coaching et un mentorat sur place et en ligne :
Conformément à l'objectif de la CDC de montrer l'exemple dans la société congolaise, un élément clé de l'appui du projet sera dans le domaine de la gestion stratégique, la gouvernance interne et l'éthique.
L'appui du projet sera également fourni pour renforcer la réalisation d'audits de conformité et de contrôles juridictionnels pertinents conformément aux normes de l'INTOSAI.
Le personnel de la CDC sera également soutenu en matière de communication et d'engagement auprès de parties prenantes pour permettre à la CDC d'atteindre et de collaborer avec les acteurs pertinents de la chaîne de valeur de la redevabilité, y compris l'Assemblée Nationale, les organisations de la société civile ainsi que d'autres organismes pour créer une visibilité et un plus grand impact pour le travail de la CDC.
Le projet sera dirigé par la CDC : Son Premier Président a la responsabilité de présider le Comité de Pilotage et de désigner un responsable pour diriger l'équipe de coordination du projet (ECP) laquelle est chargée des activités quotidiennes du projet.
Mr. Ernest IZEMENGIA NSAA-NSAA, Premier Président de la CDC, a déclaré : « La Cour des Comptes de la République Démocratique du Congo se réjouit d'être le bénéficiaire direct d'un projet de renforcement des capacités institutionnelles, qui s'appuie sur les priorités définies dans son plan stratégique 2021-2025. Je saisis cette occasion pour exprimer ma gratitude à l'IDI et au CREFIAF pour leur appui technique habituel, ainsi qu'à la Norad et à l'Ambassade de la Norvège à Kinshasa pour le financement de ce projet ». Il a conclu « Je ne peux terminer mes propos sans lancer un appel aux autres bailleurs de fonds pour qu'ils s'intéressent au Plan stratégique de la Cour des Comptes et s'engagent, chacun dans la limite de ses moyens, à la mise en œuvre du plan stratégique ».
Per Fredrik Ilsaas Pharo, directeur du Département des partenariats et de la prospérité partagée à la NORAD, a déclaré : "Les Institutions Supérieures de Contrôle sont les pierres angulaires de la bonne gouvernance et une gestion financière responsable est essentielle pour financer le développement. La Norad salue l'engagement de l'Institution Supérieure de Contrôle de la RDC à renforcer son rôle dans le contrôle des finances publiques. Nous espérons que notre soutien financier à ce projet facilitera l'apprentissage de la part des autres Institutions Supérieures de Contrôle et continuera de bénéficier du soutien des pairs de la part de l'IDI et des autres partenaires du projet".
Mr. Einar Gørrissen, directeur général de l'IDI a ajouté : "Nous, à l'IDI, sommes reconnaissants à la Norad pour la subvention, car elle nous offre l'occasion de continuer à soutenir l'ISC de la RDC en s'appuyant sur les progrès réalisés par l'ISC au cours de la phase I du PAP-APP (de 2018 à 2021) et en respectant notre promesse de ne laisser aucune ISC derrière. Ce soutien sera un coup de pouce utile aux efforts de l'ISC pour relever les énormes défis auxquels la société congolaise est confrontée, comme l'a récemment montré le rapport sur l'utilisation des fonds Covid-19 du FMI".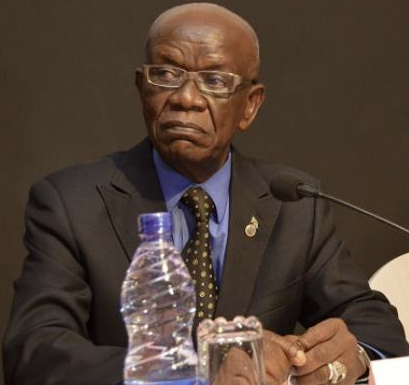 Mr. Ernest IZEMENGIA NSAA-NSAA, Le Premier Président de la CDC
| | |
| --- | --- |
| | For more information on IDI's work in the Democratic Republic of the Congo, click here. |