How Supreme Audit Institutions and development partners can learn from
previous crises and ensure effective responses to Covid-19 in developing countries
Accountability in a time of crisis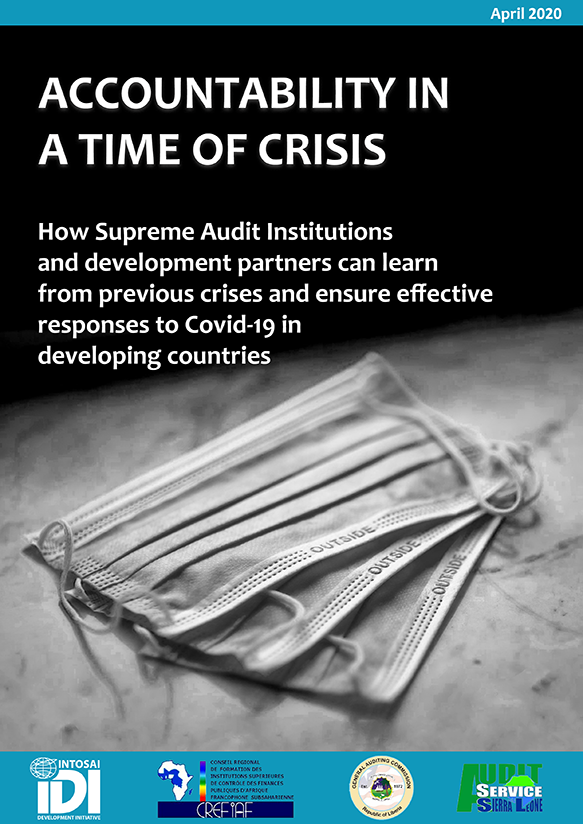 Audits of previous crises, such as the Ebola epidemic in west Africa, provide key lessons learned for handling the coronavirus crisis. The paper presents how Supreme Audit Institutions (SAIs) can play an important role during the current crisis and what safeguards development partners can apply when funding coronavirus measures.
The Covid-19 crisis is global and has massive impact on all countries in areas such as public health, employment, economic growth and social protection. The crisis requires urgent actions by governments, and it can sometimes be difficult to balance this carefully with accountability, transparency and integrity.
We know from previous pandemics and disasters that emergency situations can lead to basic control systems being suspended or bypassed, combined with weakening of accountability systems and oversight. This can cause increased levels of waste, mismanagement and corruption at a time when government resources are under pressure.
How the SAI can add value during the crisis
As a respected oversight institution, the SAI can play a key role in the different stages of a crisis like Covid-19. They can provide advice on critical rules and regulations, and can conduct real-time audits on procurements and whether funds are being used for the right purposes. This can have a deterrent effect and contribute to safeguarding government and donor funds.
SAIs can also audit the implementation of new regulations and programmes, such as for infection control or economic stimulus, and thereby contribute to effective government actions.
This can help to identify potential cases of fraud, waste, and abuse, counter misinformation, and build greater trust between citizens and the government during a national emergency.
In the aftermath of a crisis, the SAI can provide assurance on the use of funds and assess the economy, efficiency and effectiveness of the national responses. Reports can be used both for accountability and for identifying lessons for the future.
The paper presents several detailed approaches for how SAIs can contribute to the current crisis response:
Be a "critical friend" and remind key actors about basic rules and regulations that must be adhered to, even during an emergency.
Maintain dialogue with stakeholders in and outside of government on the potential role of the SAI, and risks to sound financial management and effective crisis management.
Clarify the role and mandate of the SAI, especially in light of new funding potentially off-budget.
Embark on audits that can add value as the crisis unfolds, considering financial, compliance and performance related risks in the short and medium term.
Report on time and taking the situation into account
Consider a pre-audit role if necessary for an effective national management of the crisis
Protect staff and adopt innovative ways of working
Development partners can respond through reinforcing good governance and carefully selecting short-term safeguards
The immediate response by development partners to Covid-19 is likely to involve increased contributions to health, social security, humanitarian aid and economic sectors at global and national levels. While these funds will be of great help, each sector and funding channel also brings with it different risks related to effective use of funds.
What measures can development partners apply to ensure a rapid response without compromising on accountability? By reinforcing good governance, including effective and consistent monitoring by oversight institutions such as SAIs, development partners can help to ensure that their resources are used as effectively as possible and have the greatest benefit to the people most effected by this crisis.
The paper presents specific recommendations on how development partners can promote good governance in a crisis situation, including how to:
Produce immediate messaging to strengthen and reinforce behaviors: encourage key national stakeholders and other implementing agencies to send clear messages setting expectations about the use of and accountability for emergency funds.

Enact short-term safeguards for emergency funding: Put in place appropriate safeguards relevant for different sector risks and funding modalities (see detailed proposals in the paper)

Work to establish medium-term safeguards: Encourage governments to take action on relevant prior audit reports, bringing key findings and recommendations into policy dialogue, and encourage SAIs to stay visible and conduct follow-up audits on implementation of prior recommendations.

Ensure that SAIs can audit the use of emergency funds: Off-budget funding, through parallel systems, project implementation units, NGOs, INGOs and international institutions creates the risk that funds will fall outside the audit mandate of the SAI. Development partners should consider how funds will be audited at the outset rather than after funds have been spent.
The paper has been developed in a partnership comprising:
INTOSAI Development Initiative (IDI)

Audit Service Sierra Leone (ASSL)

General Auditing Commission of Liberia (GAC)

African Organisation of French-speaking Supreme Audit Institutions (CREFIAF)
Issued: 21 April 2020