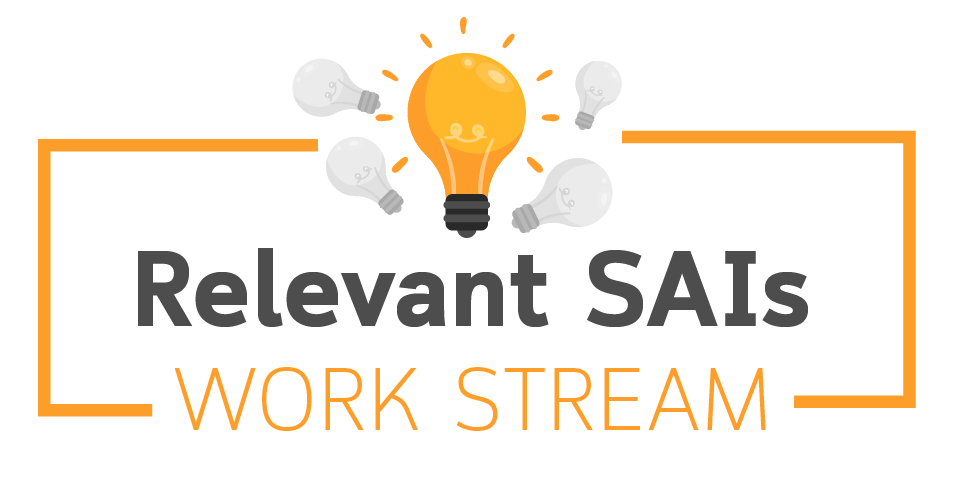 To support SAIs in demonstrating ongoing relevance to stakeholders by fostering innovation in audit and education practices, leveraging on technological advancement and facilitating audit impact.
Relevant SAIs matter. Unless SAIs demonstrate relevance, they cannot not be effective in delivering value and benefits for all. The current COVID-19 pandemic heightens the need for SAIs to adapt to changing times and changing context to stay relevant.
Part 1: Components
IDI strategy for supporting relevant SAIs focuses on innovation, digital education, the 2030 agenda, technology and impact. This workstream includes three components:
F

oster innovation in audit and education practice

Leverage on technological advancement

Facilitate Audit Impact.
IDI fosters innovation in audit and education practice,by delivering SAI Innovations events on an annual basis, supporting audits of SDGs (preparedness & implementation) and working with digital education and online work. IDI plans to support SAIs in leveraging on technological advancement by helping SAIs in using data analytics in IDI facilitated cooperative audits. IDI also plans to launch a leverage on technological advancement (LOTA) initiative to help SAIs in exploring their technology landscapes, designing and implementing appropriate methodology &tools forauditing with the help of technology. The third component of the workstream envisions impact driven SAIs. We plan to progress towards this vision by mainstreaming audit impact considerations in all our initiatives, developing a multi-dimensional framework for facilitating audit impact, advocacy and awareness raising for audit impact and supporting SAIs in becoming impact driven.
Part 2: Principles
Besides the three components, we have reflected on some key principles in our planning for 2021. We have looked at our plans to check if they were flexible, agile, innovative, resilient, scalable, compliant, coherent, inclusive and doable.For example, the audit of strong and resilient national public health systems (linked to SDG 3.d) provides flexibility to SAI teams in accessing the education and audit support; is agile in supporting SAIs as they conduct the audit on an issue of immediate relevance; is innovative in use of a co-created, dynamic integrated education and audit support platform; is resilient in terms of our ability to deliver support even if we cannot meet in person; is scalable in terms of the number of people who can access the support; is compliant with ISSAIs and applicable IDI requirements like GDPR and gender requirements; is coherent with other initiatives like PESA-P, support for implementation of PA ISSAIs, facilitating audit impact, digital education, LOTA;is inclusive in terms of mainstreaming leave no one behind considerations throughout the audit model and the delivery of the initiative; and is doable in terms of planning for realistic support to SAIs.
Part 3: Delivery Mechanisms
Due to COVID-19 we have explored a variety of mechanisms for supporting SAIs in the relevant SAIs workstream. Some of the key mechanisms are detailed below.
Integrated Education and Audit Support platforms

– These are mainly online platforms which provide education and audit support throughout a c

ooperative or pilot audit. The platform has four elements – education contents

(asynchronous

units and

syn

chronous classes),

social learning

(discussions

forums, parking lots, cafes, webinars, audit question bank), other resources

(library

, audio and video links

and

links to other

courses)

and audit support

(feedback

and support for each

stage of the audit).
Hybrid events

– We have planned for hybrid events, which are a mix of online ac

tivities with

in-person

meetings. However, if the travel restrictions due to COVID-19 continue

,

the

in-person

components of the events can also be delivered online.
Research and Expert Group consultations

– We plan to commission short pieces of research for some components of facilitating audit impact initiative

. We also plan to set up expert group consultations and roundtables to get expert feedback and input on new areas e.g.

leveraging on technological advancement. Such consultations

are also planned as hybrid events.
Frameworks &

Models

- We developed IDI's SDGs Audit Model

(ISAM

)

to support SAIs in audits of SDGs implementation

. In 2021 we plan to develop frameworks for facilitating audit impact and leveraging on technological advancement.
SAI Innovations Marketplace –

As a part of the SAI Innovations initiative, IDI will host a SAI Innovations Marketplace.

SAIs, INTOSAI bodies and stakeholders will be invited to showcase their innovations in this marketplace throu

gh webinars, blogs, case studies, round table etc.
SAI leadership and stakeholder w

ebinars

–

IDI plans to

organise

several

SAI leadership and stakeholder

webinars as a part of its audits of SDGs implementation

and

SAI innovations

.
Global Summit

– IDI plans to

organise

an in person global summit on

Facilitating

Audit

Impact (FAI

)

. I

f the summit cannot be

organised

as an

in-person

event, it will be moved online.

The global summit will also

contribute to our research and consultations for FAI

.
Networks & Continuous Professional

Education (CPD)

– IDI has created

several

resource pools in all regions.

In 2021 we plan to consolidate the training specialists, eLearning specialists and LMS administrators pools and provide for CPD opportunities

.
Learning lessons

–

We

endeavour

to

set up internal opportunities to learn continuously and act fact on lesson

s learned. We also provide platforms for SAIs to reflect on lessons learned

and plan way forward actions based on the learning.
Connecting the dots

–

We

set up activities and events that connect initiative and bring out the synergies between different strands of work.

e.g

t

he SAI Innovation events in 2021 will focus on 'Innovating for Impact' thus

connecting

to the FAI Initiative

.
Part 4: Partnerships
The initiatives under the Relevant SAIs workstream are designed, developed and delivered in cooperation with manypartners. These include all INTOSAI regions, INTOSAI bodies like KSC and its working groups e.g. Working group on SDGs & KNI, INTOSAI General Secretariat and several SAIs in the INTOSAI community. We have strategic partnership agreements with SAIs of Finland and Indonesia.
In terms of external stakeholders, we receive support from UN bodies (UNDESA, UN Women, WHO, UN ESCAP), International Budget Partnership, World Bank, Open Contracting Partnership and Partners for Review.
BMZ provides funding for the audit of SDGs implementation initiative through GIZ, IBP contributes to cooperative audit of sustainable public procurement in OLACEFS, SAI of Saudi Arabia provides support funding for the audit of SDGs implementation initiative.