Our Strategic Plan and its Implementation
Watch our introduction to IDI's Strategic Plan 2024 - 2029, with contributions from IDI staff and SAIs around the world.

The IDI Strategic Plan 2024-2029 defines our vision, mission, values, priorities and ambitions.
It's available in Arabic, English, French, and Spanish.
Our vision:
Independent, credible and sustainable SAIs for better societies and improved lives
Our mission:
We, the INTOSAI Development Initiative (IDI), support Supreme Audit Institutions (SAIs) in developing countries in sustainably enhancing their performance and capacities. We are part of the International Organisation of Supreme Audit Institutions (INTOSAI) and work together with INTOSAI Goal Committees, Regional Organisations, SAIs and other partners and stakeholders for independent, well-governed, professional and relevant SAIs.
Our values:
Professional, Innovative, Collaborative, With Heart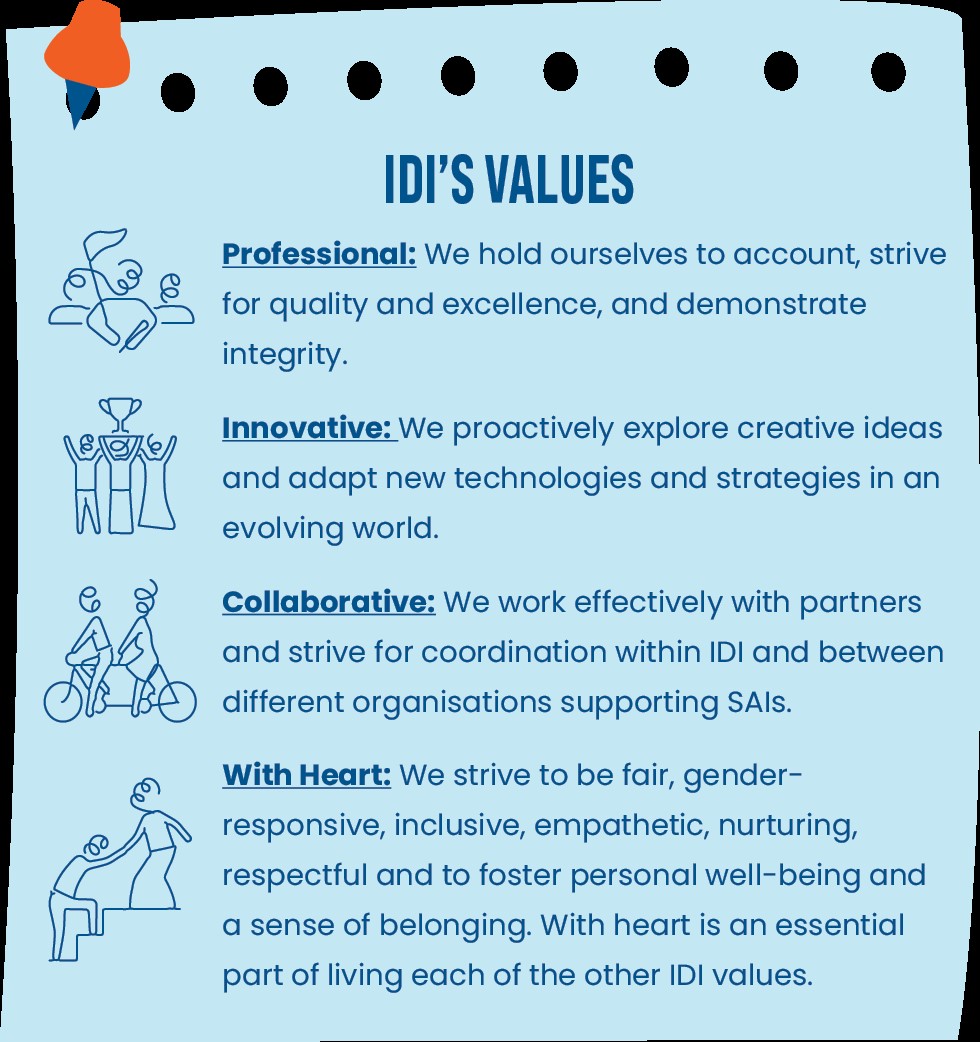 The vision, mission and values are the foundations upon which we build our priorities and ambitions. In addition, the experience from our long-lasting support of SAIs, the needs and challenges expressed by SAIs in our triennial Global SAI Stocktaking Reports, the mid-term evaluation of our previous Strategic Plan and the feedback from relevant partners and stakeholders, inform our priorities and ambitions.
What's new in the Strategic Plan:
We have three strategic priorities: Sustainability, Digitalisation and Public Trust in SAIs. They guide our work and respond to identified global trends
for Supreme Audit Institutions
We will put even stronger focus on predictability and long-term support to SAIs
What continues with reinforced ambitions:
We engage in six work streams to support the core functions through which SAIs deliver value
We apply a gender and intersectionality lens across IDI and in our work
We coordinate and collaborate with our partners
Click on the cover below to read and download.


IDI's Strategic Plan 2019 - 2023
IDI's Strategic Plan 2019 - 2023 Background
IDI's 2019-2023 Strategic Plan
IDI's Strategic Plan for 2019-2023 spells out our ambition for the next five years to remain the leading INTOSAI implementing body to support Supreme Audit Institutions in developing countries. It clarifies how we plan to support them in sustainably enhancing their performance and capacities.
We take the needs and challenges of Supreme Audit Institutions in developing countries as a starting point (based on the Global SAI Stocktaking 2017) and aim for more sustainability and impact. The IDI Strategic Plan 2019-2023 builds on:
Needs and Challenges faced by SAIs
IDI's own experience
Feedback and involvement of key stakeholders
A review of implementation of the previous Strategic Plan.
The Strategic Plan introduces two major strategic shifts:
A move from short-term programmes to four long-term work streams: This will provide scaled-up, holistic, tailored support to SAIs in the areas of independence, governance, professionalism and relevance.
Full integration of a gender perspective throughout the Strategic Plan.
The IDI 2019-2023 Strategic Plan is also available in Arabic, French, and Spanish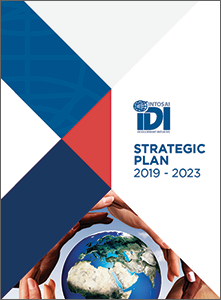 IDI's Strategic Plan 2029 - 2023 Full Report
IDI's Strategic Plan 2019 - 2023 Summary
IDI's Strategic Plan 2019 - 2023 Translations