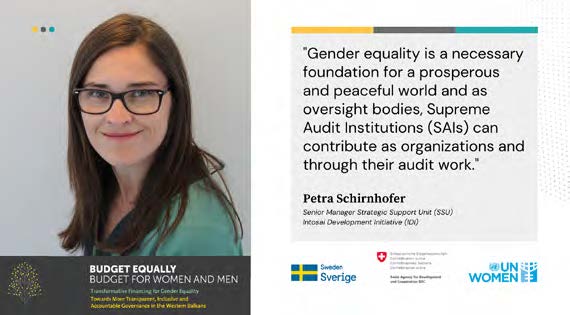 UN Women ECA have just released Issue 1 of 'Transformative Financing for Gender Equality in the Western Balkans' magazine. Read about IDI's participation in their workshop in Dec 2021 below, and click on the magazine for an interview with SAI N. Macedonia's Auditor General on their MoU with UN Women.
On 17 December 2021, UN Women hosted the online regional workshop 'Auditing Gender Equality in the Western Balkans'. The sustainability and progress of gender-responsive budgeting (GRB) initiatives demand that focus is given to the accountability and transparency of budget systems. In this regard, the supreme audit institutions (SAIs) are important actors in terms of their mandate to audit government revenue and expenditure with a view to examining the gender impact.
UN Women and its partners are carrying out a series of activities aimed at supporting SAIs in Albania, Bosnia and Herzegovina, Kosovo, North Macedonia and Serbia. Among these is the development of the 'Audit Practice Guide for Auditing Gender Equality in the Western Balkans'. This guide will introduce a set of audit tools, techniques and guidance for auditing gender equality and supporting auditors. It will provide good practice audit approaches and frameworks.
The workshop brought together government officials, experts and representatives of INTOSAI Development Initiative (IDI) to exchange views, experiences and expertise on the tools and techniques required to audit gender equality within the context of GRB and to engage them in a technical discussion on the draft guide and to receive their feedback.
The INTOSAI Development Initiative (IDI) supports SAIs in developing countries in their efforts to sustainably enhance performance, independence and professionalism.
Petra Schirnhofer, Senior Manager at the Strategic Support Unit of IDI, stated, "Gender equality is a necessary foundation for a prosperous and peaceful world and as oversight bodies SAIs can contribute as organisations and through their audit work."
| | |
| --- | --- |
| | Read more from the GRB Journal HERE |