CRISP is the new initiative from IDI (INTOSAI DEVELOPMENT INITIATIVE) which covers the Implementation of Risk Management, Crisis Management, and Business Continuity approaches for SAIs (Supreme Audit Institutions).
A workshop on Risk Management took place in Tunisia during the second week of October 2022 with IDI members along with participants from Norway, Jamaica, Gambia, and Oman, and some participants from Bulgaria and Zambia who joined online. The CRISP team jointly decided the standard and approach to be followed for Risk Management Process Implementation at SAIs.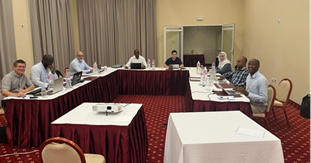 Looking ahead, a workshop been planned in South Africa targeting 26 SAIs from AFROSAI-E during the second week of December 2022. The aim of the workshop is to train participants on the implementation approach of Risk Management Process at SAI (Supreme Audit Institution) level, followed by developing an actual implementation plan at each SAI.
The team will continue to work on the global rollout of the Risk Management Process and development of Crisis Management and Business Continuity Management in 2023.
For more about CRISP, visit the CRISP page on IDI's website